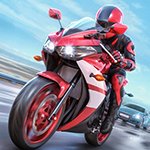 Rocket Bikes Highway Race
This time a super highway race is beginning with different types of motorbikes. The motorbikes are under different categories as speed bike, cross moto, supersport, etc. There are two game modes as One Way Traffic and Two Way Traffic. There are three game maps as Forest map, Desert Map and Winter Map. Pick one map and let a super cool traffic rider game begin with Rocket Bikes Highway Race!
Have Fun !
Game Controls
"W,A,S,D" or "ARROW KEYS"